Mui Wo
Updated:2008-06-04 11:03 | Source:
Mui Wo is the gateway to Lantau for visitors arriving by ferry, and is well worth exploring before heading off to other parts of the island. The Mui Wo Valley was first settled by farmers around the middle of the Ming dynasty (16th century). By the 19th century, there were six villages in the valley, many of whose inhabitants worked in a silver mine that operated for several decades. Remnants of the mine can still be seen and it provided the area with the alternative name of Silver Mine Bay. Also surviving to this day are several watchtowers built by the villagers to protect themselves from pirate attacks. Since the 1930s, the bay has become a popular swimming beach served by a hotel, used mostly by weekend visitors.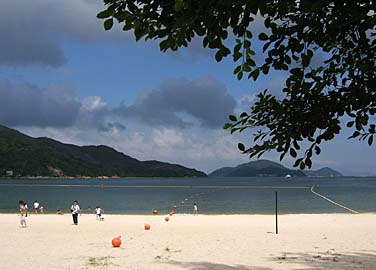 More recently, the villages have become popular with urbanites looking for a quieter life. Close to the pier and bus terminus you can check out the market and find a good selection of Chinese and international restaurants, a no-frills seaside dining arcade, and sea-gazing terraced eating places where noodle, seafood and duck specialities delight local holidaymakers.
Mui Wo is an ideal launching pad to explore other parts of Lantau Island, including the famous Po Lin Monastery, Giant Buddha and nearby Ngong Ping Village, the stilt houses of Tai O Village, and the magic of Hong Kong Disneyland. You can take a bus directly to all these locations except Disneyland, which can be reached via Tung Chung. Taxis serve the entire island.
Editor : LiuAnqi